IWSG NOVEMBER 7, 2018
Twitter is @TheIWSG Hashtag: #IWSG
 INSECURE WRITER'S SUPPORT GROUP
 FOUNDED BY 
Writer's supporting, encouraging and learning from each other.   Post on your own blog about your struggles, your triumphs, and your successes.  Talk about your works in progress the good, the bad and the ugly or some other writing relating topic on your mind.   Read others, interact, comment, and grow within this wonderful author community.   Every month there is an optional question for those who may need help figuring out what to post about.
.

OUR BOOK SELECTION FOR OCTOBER/NOVEMBER IS:
This one is for VOICE.  The discussion will start on October 17th and will go to the end of the month, but it will be up indefinitely, so you can hop in whenever you're able. Join Us.
DISCUSSION
November 19th, Join Us Here.
BREAKING NEWS!
WEP and IWSG are holding a contest for the February WEP theme!
Rules: Submit your idea for a WEP February theme by November 12to admin@insecurewriterssupportgroup.com. Nothing U.S. culturally bound. Should have wide appeal.
Prize: Feature in the December newsletter for the winner. And, of course, the winning theme will be the official February WEP theme and accompanied by a stunning badge!
Deadline: November 12. Winner announced in the November newsletter on November 28.
****************
And don't forget to start to prepare for the DECEMBER challenge!
It's much broader than a Christmas story! Give us ribbons – a race? Or candles – a tomb?
OPTIONAL IWSG Day Question:
How has your creativity in life evolved since you began writing?
Simple conversations can trigger my MUSE to toss me a, "you know, hatch an army" when someone is talking about flies so thick on the river that fish jump out of the water to eat them.  Or I read a totally fictional story and think, you know, that might really happen one day.  We carry our phones in our pockets now, sign things with our fingers on a tablet, and can see 3D objects in the air around us whether VR or a clock that cast the time in the air.  We grow body parts without a person attached to them.
Funny thing, I'm a little more organized in my daily living and writing.  Sound can transport me to whole new worlds.  I talk to invisible people and hang out with them. I'm a pantser who has learned that a little thing like 5 plot points and 10 key scenes can make all the difference in getting a whole story that flows in a way that keeps it moving forward.  So immersing self in story structure where you know certain things like you know the grass is green changes the whole game: cause it ain't like I didn't or don't know a lot about story craft with all the reading.
I still panst but with purpose.  And guess what, I'm still inspired and still don't know what is gonna happen most of the time, but familiarity with certain elements to the point of natural gives me more confidence when I am writing.  Guess that is why all the emphasis is on…
 because practice builds confidence and familiarity with story elements.   Actually, the game changer was a more in-depth study on things I knew, BUT HELLO, didn't know like I thought I knew them. (Links if interested 5 Plot Points   10 Key Scenes )  Whole new perspective with a little inner epiphany with MUSE. My subconscious went OH, I get it, and the puzzle unlocked a little or I just leveled up in Muse game.  There was not really any conscious thought MUSE just spit out 3 stories outlines.  So I'm evolving.
Little steps, right? Moving forward. After all,
I will be one year older at the end of this month and one step closer to doing the thing I said I was going to do.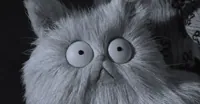 via GIPHY
I'm a little excited too, in my inner panic. 
WRITER'S GAMBIT AUGUST AUTHOR SPOTLIGHTS

Samantha Bryant on The 5 Benefits of Writing for Anthologies.  
Fiona Tarr On The Challenge of Writing a Celtic Story
On all Hallows Eve this year. So, of course, the general theme was Halloweenish.
Read some really great short stories from authors all around the globe.  This was one of our best hops ever.